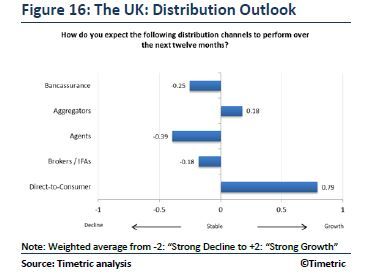 The direct to consumer channel is set to outpace IFAs and brokers, agents and bancassurance in terms of growth over the next year in the UK insurance market, according to a survey by Timetric's Insurance Intelligence Center (IIC). The global industry survey was conducted in March 2016 by Timetric's IIC team. They surveyed around 120 industry experts across the world. Participants' expertise covered all market segments: non-life, life, personal accident and health, and reinsurance.
Sign in to continue reading
If you're not registered yet you can do so easily by filling in your email address or connecting your Linkedin account.